Death row prisoner Richard Glossip has been given a 60-day moratorium on his execution while a state appeals court considers his innocence claim.
Oklahoma Gov. Kevin Stitt signed an executive order Tuesday delaying Glossip's execution for the 1997 murder of motel owner Barry Van Trees, who was scheduled for 22 September. The order reset the Glossip's execution date to December 22.
"This stay is given to allow time for the Oklahoma Court of Criminal Appeals [OCCA] To address a pending legal proceeding," the order said.
Stitt's decision means that the 59-year-old Glossip's date of execution has now been withheld or withdrawn four times.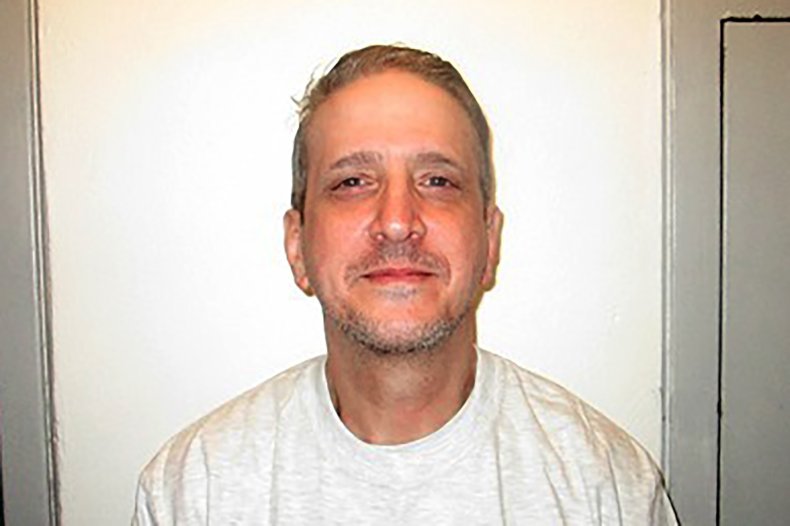 It also means that a clemency hearing before the Oklahoma Pardon and Parole Board that was scheduled for next week will be postponed.
Stitt's office and Oklahoma Attorney General John O'Connor's office have been contacted for comment.
Glossip, which has long maintained its innocence, asked the OCCA for a new evidence hearing after an independent investigation by Texas law firm Reed Smith raised concerns about evidence lost or destroyed and a The detective asked Glossip's co-defendant, Justin Snead, key questions. Implication of Glossip in the murder.
Snead admitted to killing Van Trees but said he did so at Glossip's instructions. He was sentenced to life in prison and was a key witness against Glossip.
"We are extremely grateful for Governor Stitt's thoughtful and gracious decision to grant 60 days' relief to the date of Rich's execution, and for doing so well enough before the clemency hearing on Aug. To avoid the trauma of hearing," Glossip's attorney Don Knight said in a statement. Newsweek.
"It will also save Mr. Glossip from initiating brutal execution protocols for the fourth time."
Knight stated that "new evidence of innocence continues to be uncovered on an almost daily basis, including strong evidence of admitted killer Justin Sneed's willingness to withdraw his testimony, including plotting to assassinate Barry Van Trees on Mr. was accused of composing.
"The Defense Team will continue to focus our efforts on bringing this evidence to OCCA so that the new trial Rich clearly deserves."
State Representative Kevin McDougall, who was among the state's 62 lawmakers who called for a new hearingsaid that he is "grateful for Governor Stitt's wise decision to grant Richard Glossip 60 days of relief so that OCCA has time to complete its work."
McDougall, who led an ad-hoc committee of state legislators requesting Reid Smith to investigate the case, said Sneed wanted to retake his testimony, a finding that underscores the need for a new evidence hearing.
"Now it cannot be denied that Mr Glossip is an innocent man," McDougall said.
"Oklahomans—including both those who support and oppose the death penalty—can afford to be executed without being given a chance to call witnesses in court, and for facing the lies of Justin Snead, who robbed Mr. Glossip of the past 25 years. Now more than ever, I urge the OCCA to allow a hearing on what their lawyers have requested. This is the only way to correct this horrific wrong."
Glossip's latest execution date was set after a federal judge upheld the state's ruling. lethal injection protocol in June. Glossip had been the principal plaintiff in a lawsuit arguing that midazolam use poses risks. severe aches and painsViolation of the Eighth Amendment's prohibition on cruel and unusual punishment.
Prior to this, Glossip was served three times his last meal, opting to eat the same four things. every time: Fish and Chips, a Wendy's Baconator, a Strawberry Shake and Pizza.
In September 2015, just hours after he was sentenced to death, prison officials realized he had received the wrong deadly drug. That mix and others served a nearly seven-year moratorium on the death penalty in Oklahoma.