Tokyo – East Japani leader Shinzo Abe He died on Friday after being shot at a campaign event, in an attack that shook a country where gun violence is virtually nonexistent.
He had a huge political presence even after 67-year-old Abe stepped down Japan's longest-serving prime minister, and he was campaigning ahead of Sunday's elections. He had just begun his speech in the western city of Nara, near Kyoto, when gunfire was heard around 11:30 a.m. local time (10:30 p.m. Thursday).
Officials said one person has been arrested in connection with the firing.
Abe was taken to Nara Medical University Hospital after a cardio and pulmonary arrest. The hospital announced his death shortly after at 5 a.m. ET.
Dr. Hidetada Fukushima, a professor of emergency medicine at the hospital, said Abe had received two bullets when he arrived less than an hour after he was shot and there were no vital signs. Life-saving measures, including a blood transfusion, were unsuccessful, he said, and Abe was pronounced dead at 4:03 a.m.
Later addressing reporters, Prime Minister Fumio Kishida said Abe had been killed in a "disgusting and barbaric manner".
"I was praying that he would be saved somehow, but our prayers were in vain, and to receive this news – I have no words, only I want to express my deepest condolences," Kishida said. His eyes red and tears.
Kishida said campaigning for the upper house of parliament would continue on Saturday. Abe, who stepped down in 2020, was campaigning for other members of the governing conservative Liberal Democratic Party (LDP) but was not a candidate himself.
"I believe that free and fair elections, which are the foundation of democracy, should be fully upheld," Kishida said.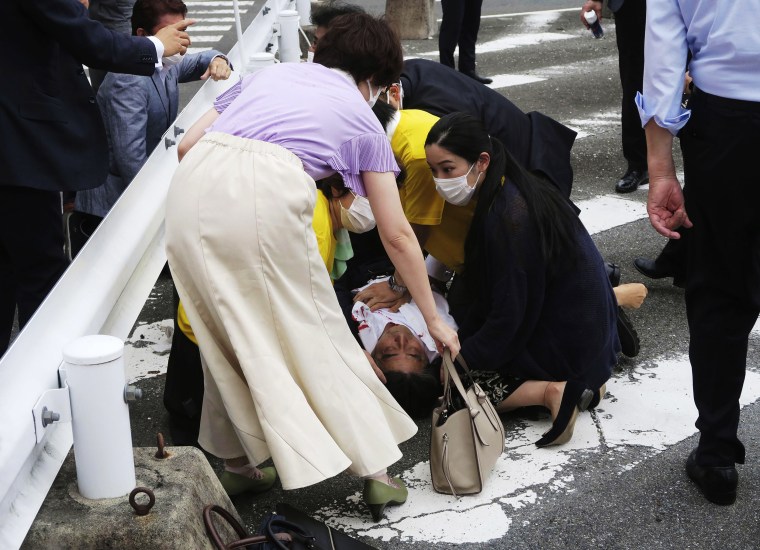 Abe dominated Japanese politics for the best part of a decade and has remained politically active since his resignation, leading the largest faction in his party.
The incident shook Japan, where gun violence is extremely rare. Handguns are banned in the country and people must undergo extensive testing, training and background checks to obtain and possess shotguns and air rifles.
Iwao Hori, an LDP member of the Upper House representing Nara, was standing next to Abe when the former prime minister was shot. "While he was talking, we heard two loud noises and he collapsed soon after," Hori told a news conference. He said Abe was unresponsive when emergency medics tried to revive him.
"This is something that shakes the very foundations of democracy and cannot be forgiven," he said.
The shooting was also condemned by the country's main opposition party, the centre-left Constitutional Democrats, with party leader Kenta Izumi calling it an "act of terrorism".